Record Store Day is a celebration of the unique culture of independently owned record stores across the world that takes place once a year. It's happening this Saturday (20th April) at a record store near you and it's going to be fantastic!
More important than ever, with record stores struggling against the fight of recession and online prices that are getting harder and harder to match, it is a day to encourage everyone to visit and support their local stores, get involved and have a great time doing so! Various events take place at each store with heaps of special releases, performances and promotions. To find out more visit their website http://www.recordstoreday.co.uk
As our ode to RSD13, over the next few days, some of our Doxtors have decided to share their thoughts on albums that are important to them. Taking into consideration, not only their love for the band, music, or time in their lives but, with our focus as always on print, an album cover that they love. We hope you enjoy….
Sgt Peppers Lonely Hearts Club Band by The Beatles.
Thoughts on a Classic Album by Chris F.
Back in 1967, long before mobiles, laptops, iPhones and CDs. When you took a Tablet for a headache, Coldplay was how you spent your school lunch times and One Direction was the way home. The Beatles made their eighth studio album, Sgt Peppers Lonely Hearts Club Band. After weeks of hype and anticipation I can still remember sitting listening to Kenny Everett playing all 13 tracks on his Saturday morning show. As a 14 year old at the time, the only two things I was interested in was football and music, so I couldn't wait for the album to be released so that I could buy my copy.
Sgt Pepper was finally released in June 1967 and was an experiment in new recording techniques with psychedelic, music hall and symphonic influences. The Album won four Grammy Awards, spent 27 weeks at the top of the UK chart and is considered the most influential rock album of all time.
For me, it wasn't just the music but the iconic album cover which was the real gem. With it's life sized cardboard models of 60 famous people standing behind The Beatles, dressed in military style satin uniforms in bright fluorescent colours. The back cover had the lyrics printed in full, the first time this had been done on a rock album. Now 45 years on, Sgt Pepper still holds a major place in my record collection. Thank you Beatles. Happy Days…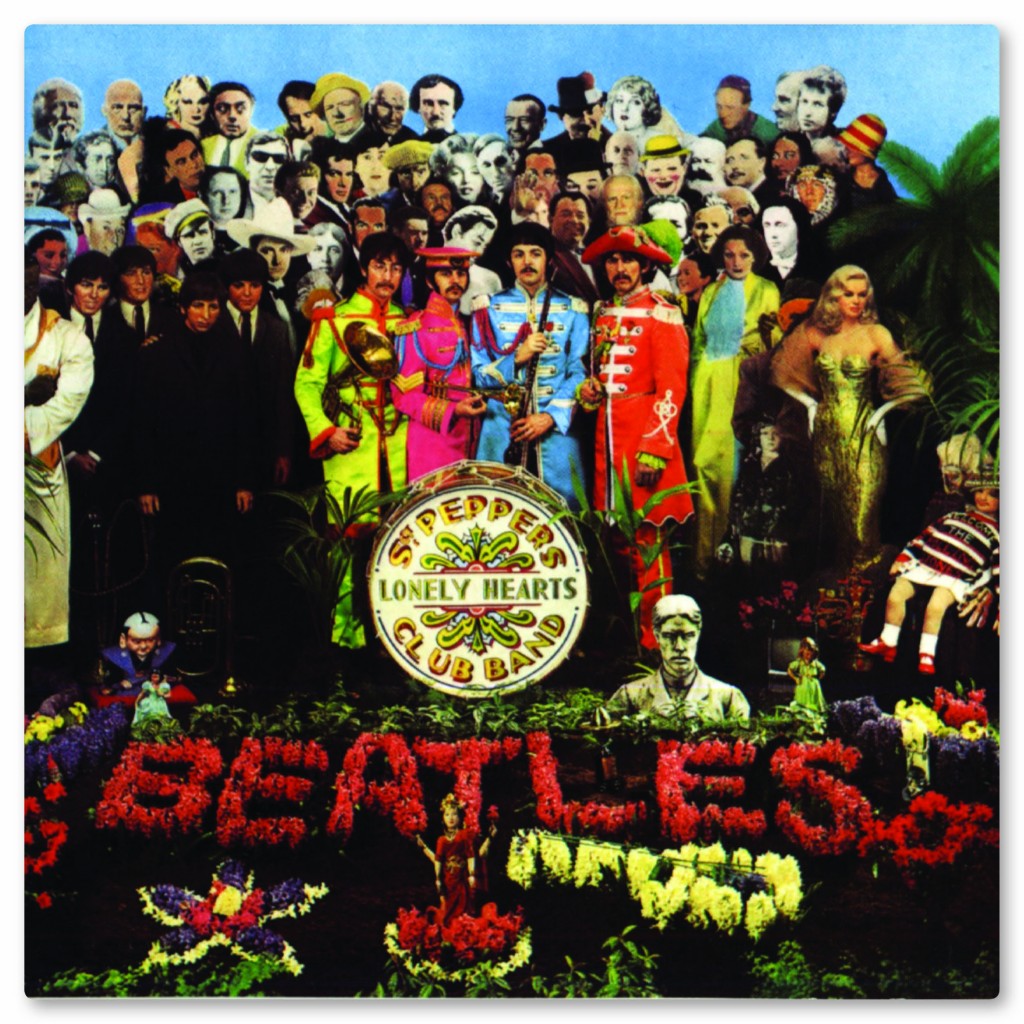 Sgt Peppers Lonely Hearts Club Band was designed by one of Britain's most influential pop artists, Sir Peter Blake. If you're interested in further details about how the design came to fruition, check out this article from art republic.
The Division Bell by Pink Floyd
by Steve E
This is an album I owned but never fully appreciated until I went to see a tribute band (Perfect Alibi) in Southampton a few years ago. They played some songs from the album which we then listened to on the way home. It was then that I "got" it! From a design perspective, the album is all about communication and the falling out of Dave Gilmour and Roger Waters. The two heads signify this and the lights in the background between the heads show communication between the two. It's actually just a nice piece of artwork too!!
Thanks to Chris and Steve for their thoughts. More to come over the weekend, in the meantime we'd love to know your thoughts and favourite album artworks of yours! Leave us a comment or give us a tweet!