Our 25,000th Review!
Posted in News on 20 September 2023
We want to say a massive thank you to everyone who has taken the time to post a review, we are always grateful that so many people take the time to share their feedback.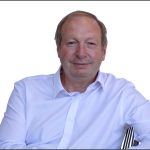 Just for fun we had a look at our 25,000th reviewer and it turned out to be Grandparent Tony Boobier who writes story books to send to his Grandchildren who live in Chile. It is such a lovely thing to do that we asked Tony if we could share a bit more about himself and his stories. We know that it is hard being so far away from family, and this is the perfect way for Tony to show his Grandkids how much they mean to him.
Here's our interview with Tony:
How did you first hear about Doxdirect?  A friend showed me their family history which they had printed through Doxdirect. It was a combination of words and photos, and they were very satisfied with the process and the outcome. They said that having it printed and properly bound had made it a lasting family heirloom. In the same way, for me, I particularly wanted to write something for my grandchildren which they could keep as a lasting memento.
Where do you get your story ideas from?    Ideas for stories just pop into my head, but they're usually based on an element of truth. For example, if you can't find your car that you have left in the carpark then don't you have to go on a 'car hunt'? Or perhaps what outrageous flavours of ice cream might you find at the very bottom of the freezer, such as Frog Ice Cream or Motorbike Ice Cream? Or why does Daddy eat all the leftovers? I'm sure we all have stories to tell or make up, if we just allow ourselves the freedom to do so.
How long have you been writing stories? I used to tell made-up stories to my own children until they – or I – fell asleep. They are grown up now, but putting new ones onto paper for my grandchildren seemed a logical step.
What's the best thing about Doxdirect? It feels very much like you have control over the process and I love being able to see what you are going to get before it is physically printed. WYSIWYG – 'What you see is what you get'. That aside, it's still exciting when the finished product arrives through the post.                                                                                                                                                                           
Which one of the chewy sweets is your favourite? The chewy sweet is such a guilty pleasure, and little things make such a big difference. The Refresher ones take me back to my youth, so that has to be my favourite.
Tony also writes serious books about marketing and business and stuff, and you can find his stuff here. Thank you Tony for giving up your time to tell us about your wonderful storytelling!