US Paper Sizes Explained. The difference between A4 and Letter.
Posted in News on 29 June 2022
There are two predominant paper size systems in the world today, international and North American.
Who decides?
In the US, standard paper sizes are decided by the American National Standards Institute, or ANSI.
In the rest of the world, the International Organization for Standardization, or ISO, regulates the paper sizing. The international standard also known as the ISO 216 is probably the one you're most familar with.
The beauty of the international system is its aspect ratio format, which is equal to the square root of 2 (1.4142). Why is this useful? The A system is based on the A0 format which has an area equal to one square meter. The A0 size can be cut in half to make two A1 sheets, the A1 sheet can be cut in half to make two A2 sheets, and so on.
Standard US sizes
US sizes are based on the imperial system, so 'Letter' size is 8.5 by 11 inches, whereas the equivalent A4 size in inches is 8.27 by 11.7 inches – not so easy to remember. Standard paper sizes in the US do not have a consistent aspect ratio, but were individually set.
Letter size as mentioned before is the equivalent of A4, this would be used for general printing at home, letters, flyers, homework – you name it.
Ledger (landscape) or Tabloid (portrait) is slightly larger than A3 and could be used for small posters, menus and record keeping. Wills, deeds and other important financial paperwork are also sometimes printed on this size.
Legal is the same width as US letter size but 3 inches longer. This is generally used for legal and formal letters and documentation, as the name suggests.
This is how ANSI sizes compare to ISO paper sizes, you can see the sizes in colour are the ANSI versions, which are slightly different to the A sizes.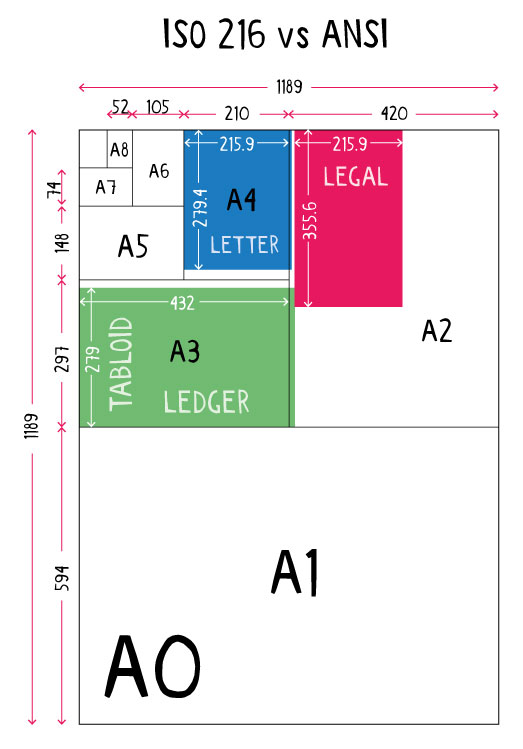 The measurements of the ANSI paper sizes are given here.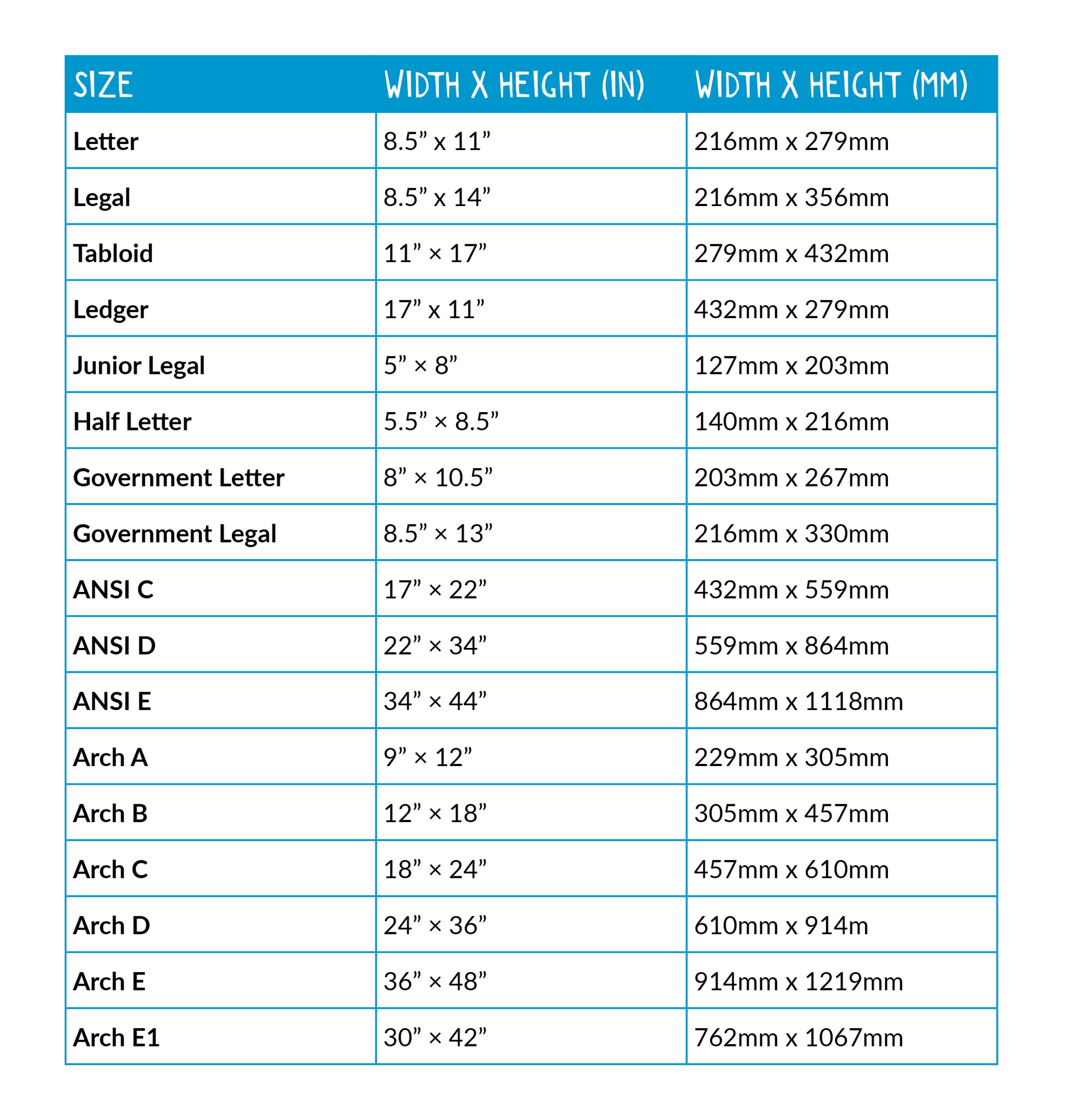 Other paper sizes
SRA stands for 'Supplementary Raw Format A' and is a paper size that is a bit larger than usual 'A' sizes to allow for bleed to be printed and trimmed.
ISO 'B' series was brought in as a slightly larger alternative to the A sizes – they are based on the geometric mean of two sheets of A series. For example B3 is between A4 and A3 size.
ISO 'C' is only used for envelopes, if you have a sheet of A5 that is to go in an envelope, a C5 envelope would be just the right size.