Doxstars! Moments shared with you.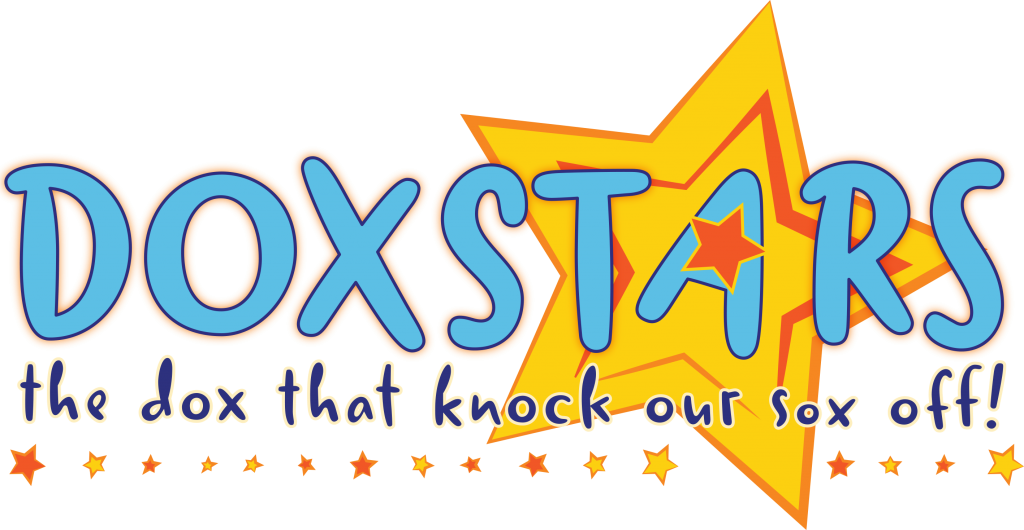 One of the wonderful things about working in a print environment is the sheer variety of work that we get to see.
There is of course the more generic print. Standard A4 loose leaf sheets, technical wire bound manuals or ring binders bursting with information (that even if I was allowed to get my mitts on it, wouldn't stand a chance of filtering into my colour and font filled brain!!). While these are all brilliantly practical, functional and necessary, well the problem is they are just that (and it doesn't make for a good blog entry!). But then there are the beautiful paperback and hardback books, the posters, the photographs and the cards that you very talented people churn through, and well it's just a real pleasure to work with (of course, no offence practical printee's! Still very talented, just maybe not as pretty!).
One such instance is this wonderful hardback book that we had the pleasure of printing for one of our customers over the Valentines period a little earlier this year. The beautiful drawings that fell out of our printer couldn't help but grab our attention, and Sam, who created and Illustrated the book as a Valentines gift for his girlfriend, kindly agreed to let us show it off on his behalf. Go on, grab a cuppa, and have a read.
Tell us about your fantastic hardback book…
How long did it take to create?
I had the idea of the book way back in October [2013], but it wasn't until November that I started planning out the book. I started off the project by nailing down the character designs. This began with lots of sketches until I could decide on a final look for both of the characters. Then I focused on drawing as many expressions for the characters as possible. I think editing down all those memories into a 31 page book was the most time-consuming part. I had to leave out a lot of memories sadly but it was important to pick and choose which ones would make for a more consistent read. Plus if I included all the memories me and my girlfriend share I would never finish the book!
Storyboarding didn't really take too long, but it was very important for giving me a template to work from for the final pages. I think drawing up the final pages took me roughly 3 months, this was partly because I was working on it in between jobs and mostly when Kathryn wasn't in.
What media did you use?
For this book I kept it very simple with just pencils, pens, black and grey markers and white pens.
My favourite media is pen and ink all the way, I love discovering and playing with different mediums but pen and ink is one I always come back to and have the most experience in.
How did you put the book together ready to upload to our website?
I scanned in all 31 pages onto my computer then cropped them to be the right size. Next I edited them and removed any smudges, mistakes, shadows and anything else that I didn't want to be seen in the final pages. Next I put them all in a Word document and then uploaded it onto your site.
What reaction did you get when you gave the book as a gift?
My girlfriend was overwhelmed. She knew it was coming as I had given her sneak previews but seeing it bound like a professional book with my name on the side made her feel very proud and very loved. She read it in silence which is a quite a rare thing for her, because she was so mesmerized by it (her words not mine!).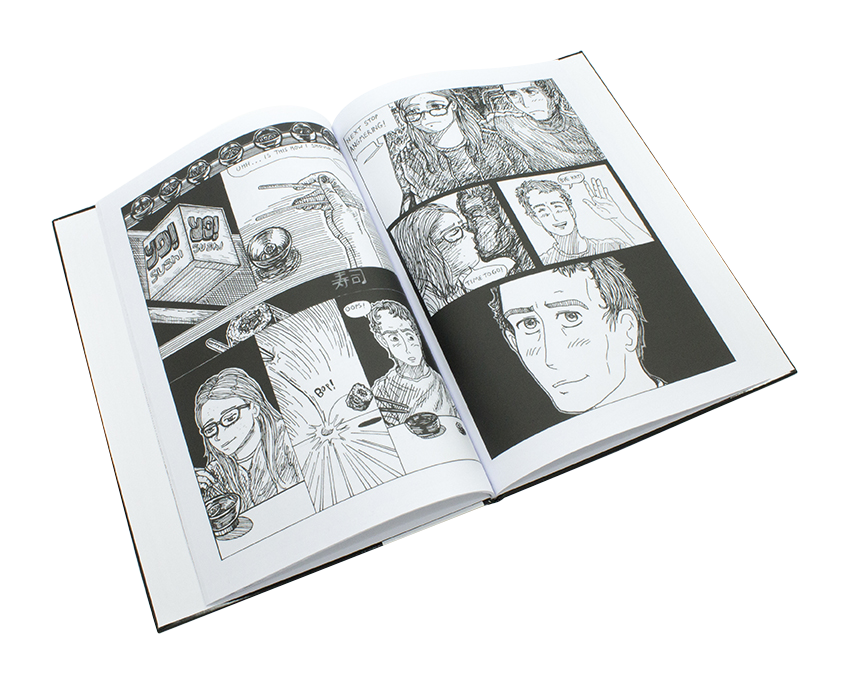 Tell us a little bit about yourself.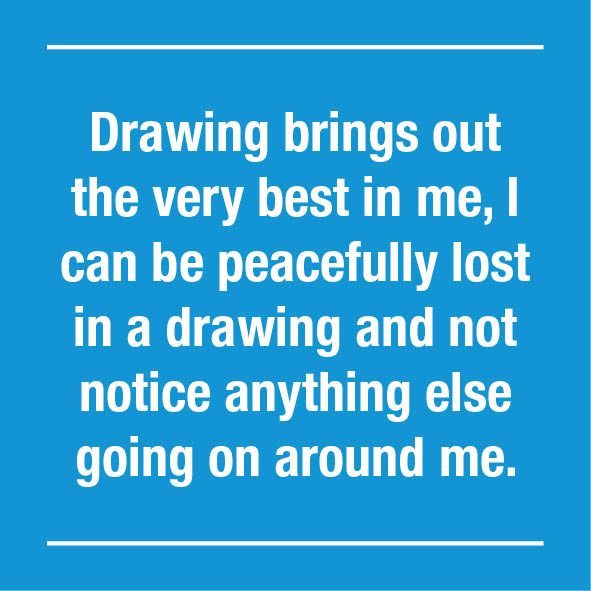 I'm 25 years old and currently work as a Library Assistant at my local University. In my free time I focus on drawing comics, portraits and general illustrations for myself and other people. I've been interested in comics and animation ever since I was exposed to it when I was very little. I started off with The Beano and Asterix comics when I was about 4-5 years old and still find myself reading comics to this day. Drawing brings out the very best in me, I can be peacefully lost in a drawing and not notice anything else going on around me.
How long have you been drawing?
I really can't remember when I started. The earliest drawing I remember doing was of a lion jumping over a picnic when I was 3 or 4 years old.
Where do your main inspirations come from?
I'm a huge fan of Japanese comic art and was largely what inspired the look of the book. Manga artists such as Katsuhiro Otomo (Akira), Masasume Shirow (Ghost in the Shell) and Takeshi Obata (Death Note). Comic artists outside of Japan that I frequently find myself inspired by are Jeff Smith (Bone), Jhonen Vasquez (Squee) and Frank Miller (The Dark Knight Returns). But it is really hard to pin down what inspires me as so many artists and things do.
What about education/work? Or are you self taught?
I completed a Degree in Illustration at Portsmouth University. University did help me grow as a person and an Illustrator but I do feel the real learning experience began after I left education.
I have worked as a Illustrator for a primary school, which included a series of paintings for special events. I've also done some illustrations for websites and have just launched a portfolio website and working on establishing myself as a freelance Illustrator. I'm free to take on any commissions whether it be portraits, caricatures, comic illustration, T-shirt design, album design and more. I'm also currently storyboarding a graphic novel that I plan to self-publish.
Do you have any tips you could pass on to any budding artists?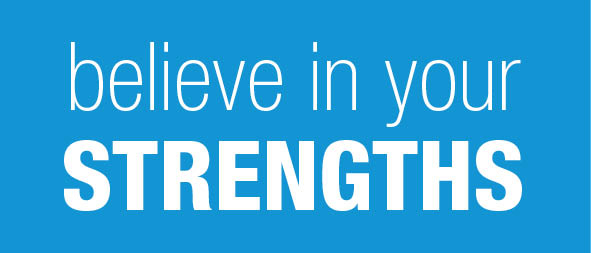 I don't really feel like I've accomplished enough to advise anybody, but the advise I keep telling myself is to believe in your strengths and to work on your weaknesses. Believing is most of the battle in doing anything, as cheesy as it might sound.
Go on then, tell us how we did at Doxdirect…
How did you find out about Doxdirect and why did you choose us?
I was looking for a website that could bind at a particular size and also provide a professional hard-back final look. After some google hunting I discovered DoxDirect and noticed you matched what I was looking for.
How did you find the upload process?
Very easy and simple.
Were you happy with the Doxdirect service as well as finished product?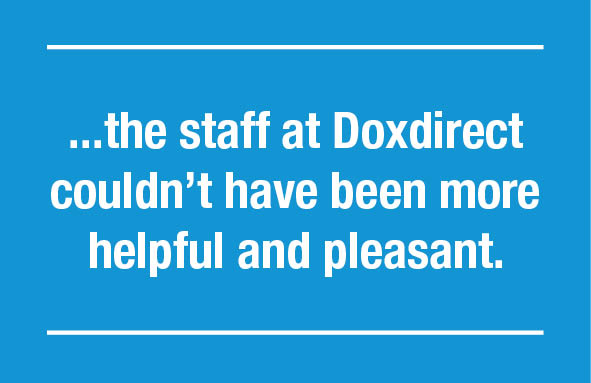 Couldn't be happier, the staff at Doxdirect couldn't have been more helpful and pleasant. They more than went out of their way to make sure my book was done to the highest degree and with speedy shipping. I will be using Doxdirect very soon, no question about it.
Doxdirect took my finished pages and brought them to life, totally matching what my vision was for the final product. I was nervous about what the outcome would look like but I couldn't fault it at all, very satisfied.
Do you have any feedback on how we could improve the process?
Honestly can't think of anything, in fact you fixed some errors on my part with the page count. You clearly cared about putting out the best outcome possible.
Anything else to add?
Thank you once more for helping make my Valentine's day with my girlfriend (Kathryn) special.
Thanks for interviewing me and look forward to collaborating again!
And thank you Sam, we are sure there are great things to come from you!
If you'd like us to feature your work on our blog, please contact us at service@doxdirect.com