Doxdirect Free Pet Posters help find missing Cat!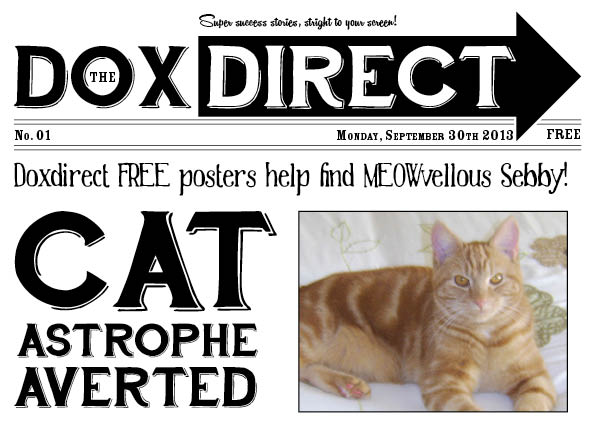 We love to share a happy story, and here is a heartwarming one to end the month, and start the week…
You may or may not know, but we offer a free online printing service for lost pet posters. One of our customers, Neil, didn't know this. So, when his young son's cat, Sebby, sadly went missing, he ordered and paid for some posters to help with the search.
Thankfully, we spotted the order was for a lost pet, so we were able to refund Neil for the posters he had paid for. It's really important to us that by offering this service for free, we hope we can help pets and their owners be reunited as quickly, and as stress free as possible.
After a few days, Neil kindly let us know the outcome via Facebook:
"Just to let you all know that my cat has now been safely found as a direct result of the posters/leaflets Doxdirect printed for free. I have been on several wild goose chases but the stream of information produced by the literature was amazing. Thank you everyone at Doxdirect!"
What a brilliant outcome! We're so over the moon that we could help, we just had to share the story. So a super well done to everyone who passed on information to Neil and his family, and extra cuddles to Sebby from us Doxtors please!