Guide to writing your dissertation
A comprehensive guide to writing your dissertation
Even if you love to write, a dissertation is likely to be daunting. It will require lots of hours to research, draft and revise before it's ready for submission. Following the steps listed in this guide can help make the process a little easier. We hope it helps!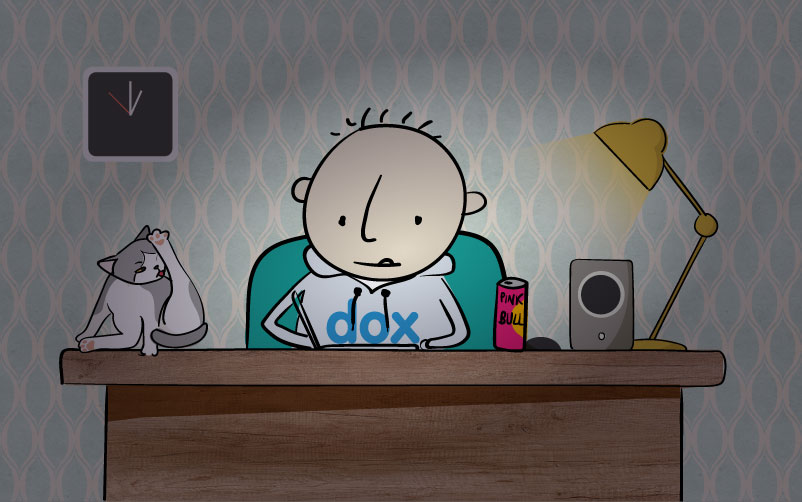 Step One: Review Program Requirements
Before beginning any work on the project, you should check the requirements of your course. Each course will have different steps, approvals, deadlines, formats, word counts and other parameters. Following these can save you a lot of wasted time and frustration. Stick to them! Enter all the relevant deadlines on your phone calendar.
Step Two: Topic
The degree course you're enrolled in will set some parameters for choosing a topic. In general, it should be a subject that has not been addressed before, a new angle on an existing topic or an enhancement to previously performed research.
Usually, a faculty member can provide insight on your topic or help you choose between a few ideas. It's also helpful to look at any recently approved dissertations to understand what kind of topics have been covered recently.
Step Three: Advisor and Committee
When you're selecting a topic, you will be interacting with the professor who will serve as your advisor. Your advisor is on hand to help you set a research schedule and to answer any questions if you get stuck. At higher academic levels, much of the work will be done independently, but the advisor is there to help.
If your dissertation has to be approved by a committee, then you will start the process of choosing them. Although the idea of defending a dissertation before a committee may seem intimidating, these professors want you to be successful.
Step Four: Letter of Intent / Proposal
Some courses require you to submit a letter of intent and/or a proposal which will have to be approved by your advisors and/or committees before fully diving in to the research. A letter of intent is a short document that briefly explains the topic, advisor, proposed committee, the importance of the research, the goals of the research, the timeline and resources.
A proposal is longer than a letter of intent but shorter than a dissertation and usually includes:
Working title, which is a specific description of the topic the student is investigating
Background, which helps even non-specialists understand the topic being researched
Problem(s)/Question(s), which are the main points the paper will try to address and answer
Literature review, which briefly summarises the existing literature related to the topic
Data sources that will be used in the research
Research methods that will be used in the research
Contribution to knowledge, which answers the question of why this research is needed and how it benefits the field and others
It's clear that there's a lot of work that needs to be done before you start the first draft. The good news is, proposal documents often serve as the first couple of chapters, or a preliminary outline for the full document. Proposals also help you gain clarity on the topics and direction of research.
Step Five: First Draft
One strategy for success is to set deadlines for the various parts and sections. Steps one to four above should each be given their own allotment of time. Then you will need to split up your time among the following main sections, being sure to factor in time for reviews and rewrites.
Title Page: In addition to the final title of the paper, your title page should also include your name, university, department, date, advisor and contact info.
Abstract: The abstract is a one-page summary of what will be covered. It should specifically state what questions you researched, why, how, what the major results were and why these findings are important.
Table of Contents: List the major sections, sub-sections and page numbers in the ToC.
List of Figures: This page will be a list of all figures, a short caption and their page numbers.
List of Tables: This page will include a list of all tables in the paper, their short captions and page numbers.
Chapter 1: Introduction: In the introduction, you will present the background info that led to your inquiries, and explain the purpose or goals of the study. It should include the questions you are trying to answer, introduce what will be covered in the rest of the paper and explain what is within and beyond the scope of the paper. This section should address why the research is important and how it will contribute to the knowledge base in the field. You may want to save this section for last, it sets the stage for the rest of the paper, and it's hard to write an intro if you don't know what will follow.
Chapter 2: Review of Literature: This section should be similar to the review of literature that was included in the proposal. The review should be updated to include any additional literature that was used in the project. It should provide the framework for the project and explain how others have attempted to address these questions in the past. This section is not just a list, but should analyse the prior research to understand how well a topic has been previously investigated.
Chapter 3: Methodology: This chapter will delve into your gathered and analysed data. It will explain why this method was the best for this problem and reference other literature that has used similar methods, if appropriate. The description should include research design, population used, sampling method used (if relevant), how observations were made (scientific instrument, questionnaire, interviews, etc.), how data were coded and what statistical analyses were performed on the data.
Chapter 4: Results: In the results section you should only list what you observed or your findings from the statistical analyses. You should save all your interpretation and comparison to other literature for the discussion section. You can use tables and figures in this section to display the results and make them easier to understand. It's okay if this section is relatively short, since the results are the critical piece of the project. This section only lists the results and doesn't get into interpretation.
Chapter 5: Discussion: This section should aim to interpret your results and focus on the most important results and any interesting observations about patterns, trends or relationships in your data. It also typically compares your results with prior related research and if you agree or disagree with the work. This section should examine your results in comparison to the questions you asked, and offer possible explanations or hypotheses for the results. You should also include a discussion of the significance of the results in this section. Try not to write too much in this section. There are countless ways to look at data, so it may be tempting to keep writing to try and cover all possible caveats. It can be helpful to work with an advisor on this section to make sure that your paper focuses on the most important points.
Chapter 6: Conclusion: In this section, you should tie together the paper in a succinct way. It should include the question and most important findings. It shouldn't be a repeat of the abstract or discussion sections, but it should include the most important points from your paper. One way to narrow down what to include in this section is to think about what you'd like the advisor or member of the committee to remember and takeaway with them six months after the review.
Chapter 7: Recommendations: This section is not required by all schools and programs. However, you can use it to list any additional research or experiments that may be needed. If the research has broader policy or industry implications, you could use this section to list the next steps for making others aware of this research and any changes it recommends.
Acknowledgements: In this section, you would typically thank your advisors or others who have helped you complete your dissertation. This can include technical, intellectual or financial support.
References: All sources that are cited need to be listed here in the appropriate format. Any ideas that are not your own need to be cited and referenced.
Appendices: This section should be used to list complete data sets, show figures, tables or calculations that are not critical to the paper or that are longer than two pages and highlight other reference materials that weren't cited specifically in the paper.
Conclusion
Writing a thesis paper is a major academic achievement. It shows that you can think and work independently and develop a paper worthy of scholarly approval. It can be difficult and time-consuming to complete, but with this step by step guide it can be a little more manageable.
Printing
Once your masterpiece is ready, we can professionally print and bind it for you, and deliver to your doorstep. Visit our page https://www.doxdirect.com/dissertation-printing/ to see the print options and get an instant quote. Good luck!