Happy New Year everybody, from us all at Doxdirect! Though somehow, with all the booklets, brochures and lovely documents we've been looking after for you, January seems to have whizzed by already!! It feels like an age ago we were popping champagne corks and singing in the new year. However here we are, speeding our way into February and so much has happened already.
In addition to getting back to the good old routine of an online printing service, there are a few things that we are excited about here at Dox HQ. A fresh start, new resolutions and brand new ideas by the bucket load.
1. Our new Instagram account – Follow us today!
We are very happy to announce that we have our new Instagram account set up and ready to get snapping. Instagram is a great way to capture a moment and hopefully help you to get to know us a little better. We can give you an insight into how we print and bind your documents. As well as the more important and essential office cake updates – though ahem… January has been a little sparse so far (just saying guys!).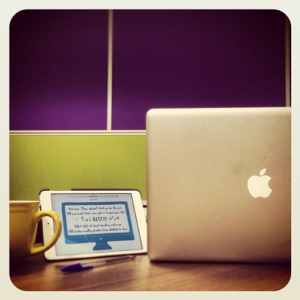 2. Our beautiful new office
There have been some very busy bods throughout December and so… drum roll please… we have lovely new office decor including a great big purple wall!! Purple is a super colour to have in a design studio. It helps to boost artistry, intuition, peace and wisdom. Apparently – though we have no proof of this – it can even help with headaches. We have matched this with bright green desk separators, and it looks tremendous! Green, (continuing with our colour psychology lesson!) has been said to curb the appetite (so far there is absolutely zero evidence supporting this!!). Still it looks great and we feel pepped and ready to help you with any of your printing requirements. Whether you want a series of A3 posters  or to print your own book.
3. New and exciting 'stuff' in the pipeline
There is also some new stuff that hasn't quite happened yet – but the fact we know that it's on its way makes it equally as exciting. We have a great team working on our website who are continuously tinkering with scripts and codes and whatnot to make it far more streamline and even easier to use. Not only this but we are also working on some great new products to add to our range. Ready for you to get your mitts on!
And this is where you can help… We want to know what you think, and what you want. Whether it's something you already like and don't want to change, something you'd like to work better or perhaps a new product you'd like to see. Whatever it is get in touch at 
service@doxdirect.com
 or comment on this post. We'd really love to know your thoughts!
Don't forget to follow us in Instagram!