How to Create your Order of Service Booklet
What is an Order of Service booklet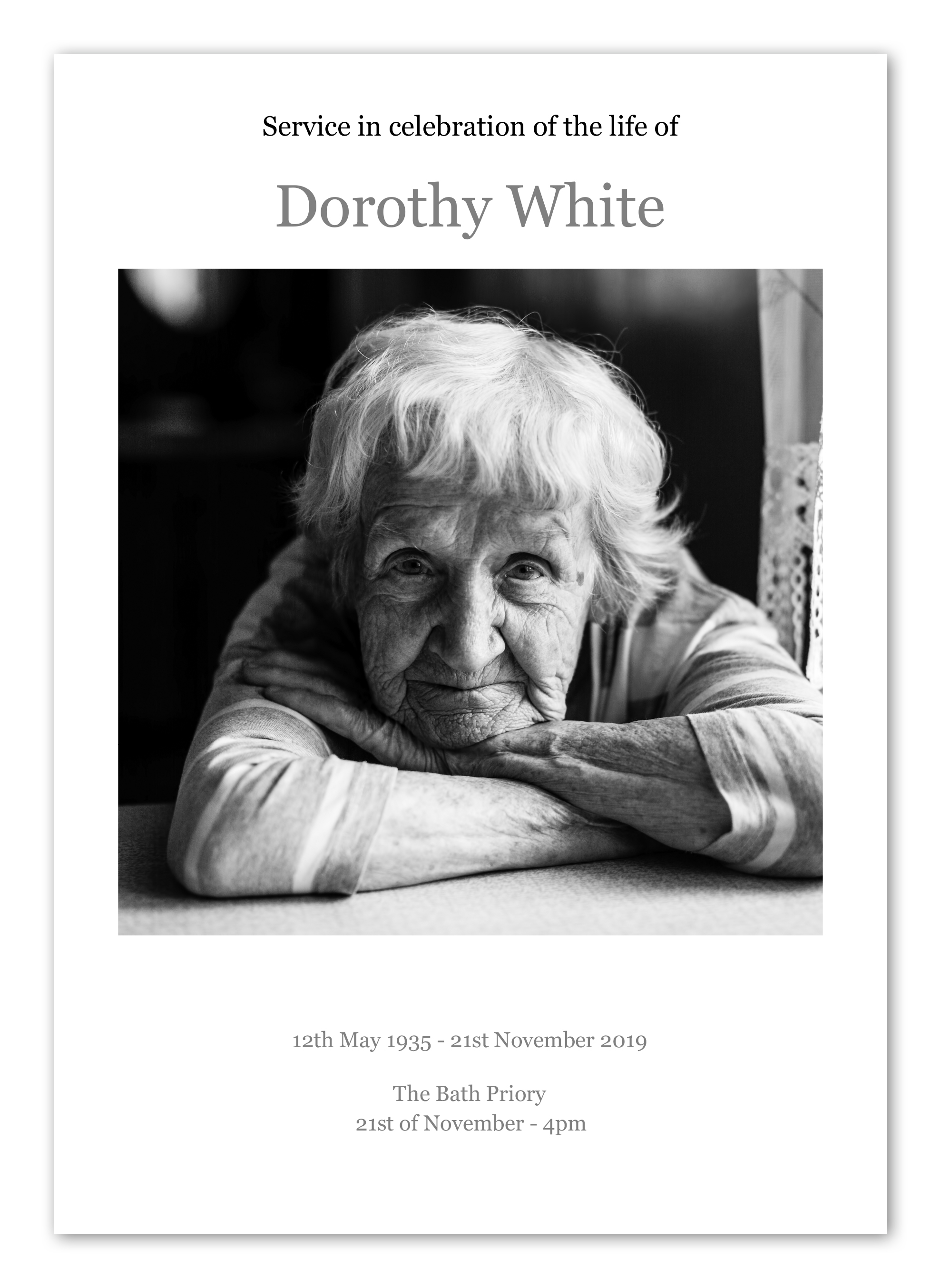 Order of service booklets play an important role in weddings, funerals and christening ceremonies. In this occasion we'll be addressing how to create Order of Service booklets for funerals.
A funeral Order of service is a short booklet given out to inform and guide guests through each part of a funeral service. In other words, it details the order of the funeral service and often includes readings and hymns dedicated to the person being celebrated. It's also a wonderful keepsake for friends and family after the day.
The Order of Service contributes to the lasting memory of your loved one and can be kept for years after the service, therefore it makes sense to invest the time to make sure it's perfect. 
At Doxdirect, we understand difficult times require simplicity and reliability, and that's why we've decided to help make the process of creating and ordering an Order of Service as easy and as straightforward as possible.
What it contains
An Order of Service layout is quite simple, and it can vary depending on personal choice. Here we guide you though a standard Order of Service.
On the Front Cover:
-Name of your loved one
-Photograph
-Date they were born and date they passed away
-Venue, time and location of the service
The Inside Content:
-Entrance Music
-Introduction and Welcome by the Officiator
-Hymn, Prayer or Verse
-Reading
-Eulogy
-Hymn, Prayer or Verse
-Commendation & Farewell
-Committal
-Dismissal and Blessing
-Exit Music
On the Back Cover:
-Another photograph or your loved one
-Name(s) of organiser(s)
-Invitation to a wake or refreshments after the service
-Venue, time and location of the wake 
-If chosen a Charity to receive donations, Charity name
Our template and what our template contains
We've created a fully customisable professional Order of Service template to make things easy and simple for you. You just need to provide the basic details, as the rest has been done for you. Text can be tailored to adjust the service as you wish, with the addition of selected music, passages to be read and the names of readers.
You will only need to provide:
-Details of your loved one
-2 Photographs
-Venue and wake details
-Entrance & Exit Music details
-Text for the Reading
Other details of the template can be modified, for example the Hymns. If you'd like a different choice of Hymns we recommend "Song & Praise" for an ample selection. 
Download our Order of service Template
How to order your Order of Service in 4 simple steps
1. Firstly, fill in the template we've provided with the required details, and make the changes you need. Once you have finished editing your file, save it and visit our Booklet page to start placing the order.
2. Select the Saddle Stitched booklet option, upload your finished file and select A5 as the size.
3. You'll have a preview to check how your booklet will look, make sure the details for your booklet are correct on the right hand side of the preview, as you can select a wide variety of paper weights and other options.
4. And finally, pay and it's done!
Most Orders of Service are usually A5 Saddle Stitched Booklets, however, you can use our template for any A4 or A5 binding types. If you need any advice, call or email us, we'll be more than happy to help you with whatever you need.