More Charity Fun with Sainsburys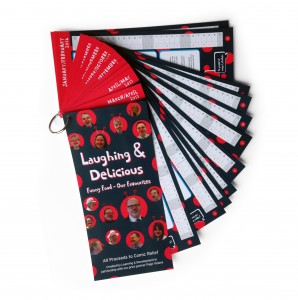 You can't have failed to notice that something big, red and funny has been going on recently in Sainsbury's. Every year since 1999 their colleagues have gone to extraordinary fundraising efforts for Comic Relief and this year was no exception.
As well as all the merchandise they sell in stores, Sainsbury's employees are encouraged to do something funny for money! This is where us Doxsters got involved. We've been working with Sainsbury's Learning and Development team for some time now and on this occasion they came to us with a special request. Could we help them to design and print a product that they could sell to raise money for Comic Relief. Well of course we could!!! And the Laughing and Delicious Recipe and Joke Calendar was born.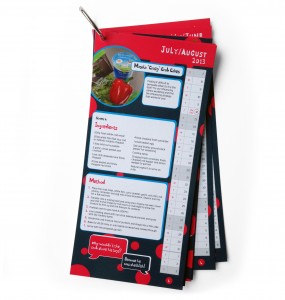 The L&D team supplied us with 13 recipes and jokes, it was then our mission to turn them into a spectacular collection of delightfully designed, Comic Relief inspired, recipe cards. We felt really proud to be able to help towards such a fantastic cause.
This year in total, Sainsbury's have managed to raise an incredible £10,512,406 to date! For more information about Red Nose Day and Sainsbury's involvement, check it out at rednoseday.com/