Doxstars V.I.P Special: Kenneth Alwyn, Author of A Baton in the Ballet and Other Places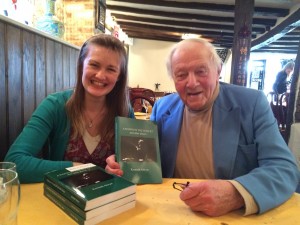 (Kenneth Alwyn pictured above)
Described by BBC Radio 3 as 'one of the great British Musical Directors', Kenneth Alwyn is an English Conductor, Composer and Writer and a Fellow of the Royal Academy of Music. Alwyn is also married to the esteemed National Theatre Actress, Mary Law. This first volume of his memoirs charts the fascinating period from his early childhood to conducting the Royal Ballet during the era of Dame Margot Fonteyn. Incredibly, as a boy he had never even seen an orchestra but he had dreamed of becoming a Conductor… and against all the odds his dream came true.
On Alwyn's 80th birthday he was interviewed by Edward Seckerson for BBC Radio 3's programme Stage and Screen, broadcast. Seckerson noted that "Alwyn's career has encompassed many of the highlights of post-war British musical theatre."  He also wrote and presented the premieres of many Broadway and original British musicals, including the original recordings for musicals and productions including Oliver!, Camelot, Carousel, Guys and Dolls, The Most Happy Fella, the pantomime Dick Whittington at the Bristol Old Vic Theatre starring Peter O'Toole and West Side Story to name but a few.
In 1958, the BBC invited Alwyn to conduct the BBC Concert Orchestra, marking the beginning of a long association between Alwyn and the BBC as he wrote and presented the radio programmes Friday Night is Music Night and Melodies for You. Alwyn has served as Associate Conductor of the BBC Concert Orchestra. He also presented the BBC TV series The Orchestra, conducting the Royal Philharmonic Orchestra, and also presented a BBC Omnibus documentary on the music of Tchaikovsky, directed by Sir John Drummond.
Alwyn's friendship with the comic legend Dudley Moore led to a collaboration for Moore's final UK concert tour in March 1992. Alwyn's friendship and stage performances with another popular British comic, Bob Monkhouse, are also chronicled in Monkhouse's autobiography Crying with Laughter: My Life Story.
In recognition of his contribution to the world of British musical theatre, Alwyn and the Alwyn Concert Orchestra were invited to perform at the memorial service for Noël Coward, which was held in Westminster Abbey in the presence of Queen Elizabeth The Queen Mother.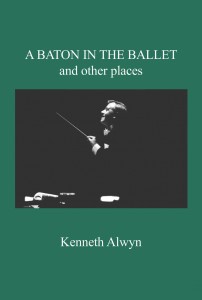 (Paperback cover image of Kenneth Alwyn conducting at the ballet above)
So understandably we're over the moon to have had the honour of recently printing his paperback book, A Baton in the Ballet and Other Places, and to actually have Kenneth talk about the chronicles of his astounding life with us in person. A pretty rare treat indeed!
Can you give a short summary of the book, explaining what it's about?
A Baton in The Ballet and Other Places, has been written for my family and is a history of our antecedents which include a British Grenadier who was a personal bodyguard of Queen Victoria, and another – a sergeant, who on retirement, became a famous 19th century publican who ran the Greyhound, Adswood, where he bottled his own rum and provided music and dancing on high days and holidays.
Why you chose to publish it on the 100th anniversary of the 1st World War?
I've published this year because A Baton in the Ballet and Other Places is dedicated to my father – a Sergeant in the Cheshire Regiment who, although wounded and gassed in the first battle of the Somme in 1915, survived his injuries long enough to pass on to his only son his own love of classical music and to earn the affection and respect of all who knew him.
You dedicated the book in the memory of your admirable father, who you lost at an unfortunate early age, do you feel completing the book provided a form of catharsis in some way?
Writing the book made me feel much closer to the courageous man I only knew for the first few years of my life.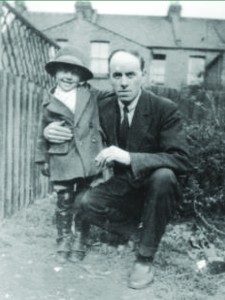 (Alwyn as a little boy with his beloved father Jack, pictured above)
How did you find the process of approaching literary agents, and getting it published and out into the hands of the public?
I don't know what will become of my book but writing it was the most important thing, and the first printed copy was like holding a time machine, in which I could roam my past at will.
Any words of wisdom for aspiring first-time authors?
I cannot justify giving any advice to aspiring authors except 'go for it'. However, beware of spacing errors and poor punctuation, lest the reader becomes more interested in how your draft reads than its content!
For all enquiries about the book please email at:
Published January 2015.
Copyright © 2015 Kenneth Alwyn
From the team here at Doxdirect, we would like to say a massive thanks to Kenneth Alwyn for taking part in this interview.