Doxstars – Legends of the Moneyers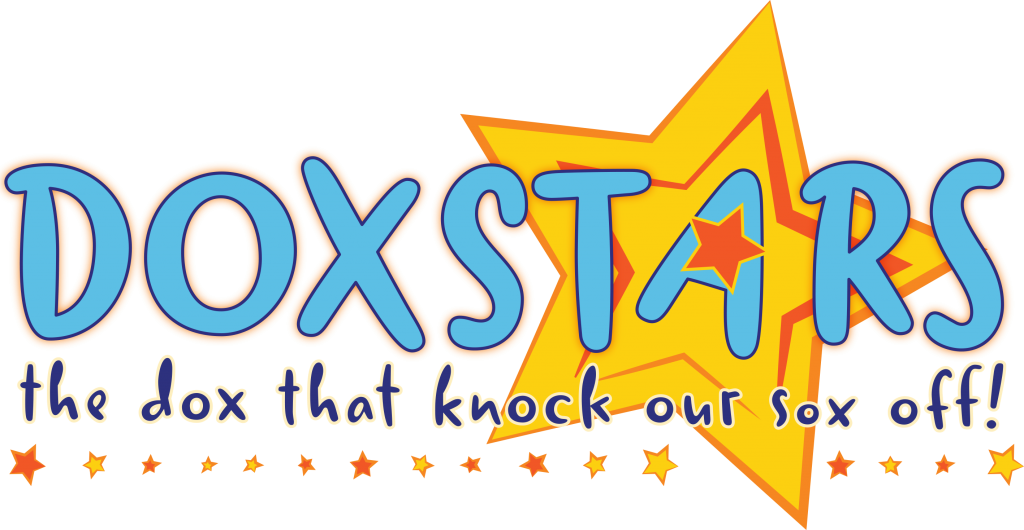 If you're into history then this is one for you Recently we had an order for a batch of A4 hardback books. Each copy is crammed with information on a type of medieval silver coin called a 'short cross' coin.
Money is a fascinating thing. It plays a part in all of our day to day lives. Even if the simple penny I have sat on my desk could tell a story I bet it would be a good one, let alone an old Medieval coin. Whose hands did it fall into? What did it buy? Where was it used?! Of course we'll never know, that's one for the imagination. But here is a book that might help us discover part of their history, even if we can't reveal their secrets.
It contains tables upon tables of useful information (for those who know how to use it!) alongside some wonderful detail and illustrations at the front. For example, did you know that on the back of each coin, a cross was imprinted so that a chisel could easily separate it into 4 equal parts – thus creating an 4 equal lesser amounts. This fascinated me, and of course explained the reason why they are called 'short cross' coins. Despite it making a certain kind of sense, I'm certainly not going to be tearing any £10 notes in half when I don't have any spare change on me!
Gerry Slevin, who has been metal detecting for an impressive 22 years, wrote and complied the information in the Short Cross Legends book. He kindly agreed to answer some of my questions – as it certainly sparked my interest!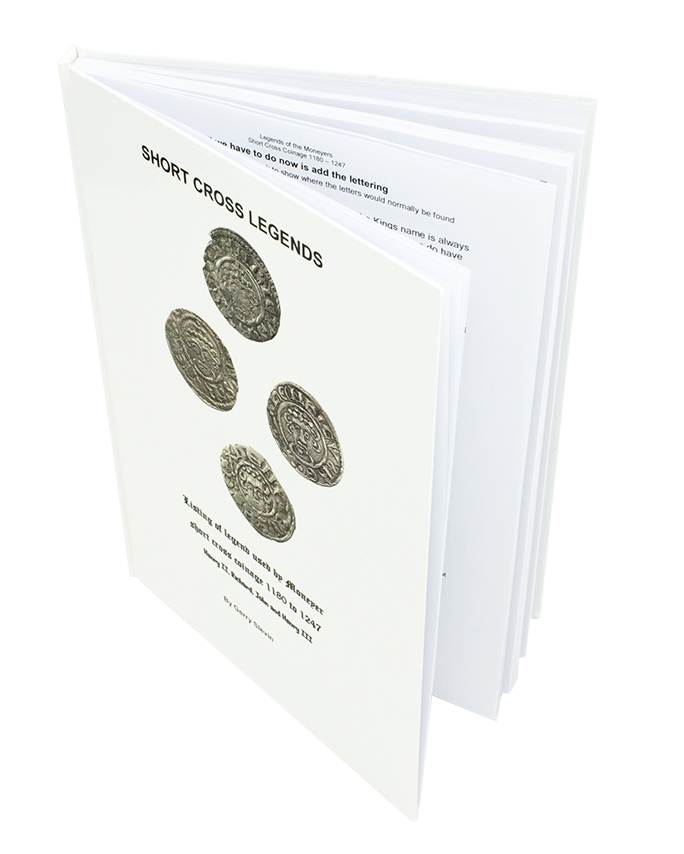 Legends of the Moneyers –
Short Cross Coinage 1180-1247
In your time as a metal detector, what has been your most interesting find?
A medieval fob seal. Its value today is about 25p, but to me, it's priceless.
Do you have a favourite coin you have in your collection? Or is there a particular coin that you would love to see?
I don't have a favourite, I love them all. I'm happy to find even a small rusty nail because it might have been a hob-nail from the bottom of a romans shoe (I dream).
Can you give a short summary of the book, explaining what it's about and how it will be used?
The book is about the medieval silver penny that was in circulation for 67 years and issued under four Plantagenet's Kings of England – Henry II, Richard, John, Henry III. It will be used by coin collectors, metal detectorists, find liaison officers (working from your local museum) and the Portable Antiquities Scheme, www.finds.org.uk.
Can you give a simple definition of a short cross coin?
Just like back in 1960's there were 240 (copper/bronze) pennies to the pound. Likewise, these medieval silver pennies had the same – 240 to the pound. But unlike today's money, when your coins get worn, the bank would still give you new one for an old one. In the case of the silver penny, when worn it was worth less. It was the weight of the silver that counted, not face value like today. Still, with just one silver penny back in 1180 you could buy a gallon of beer. Those were the days!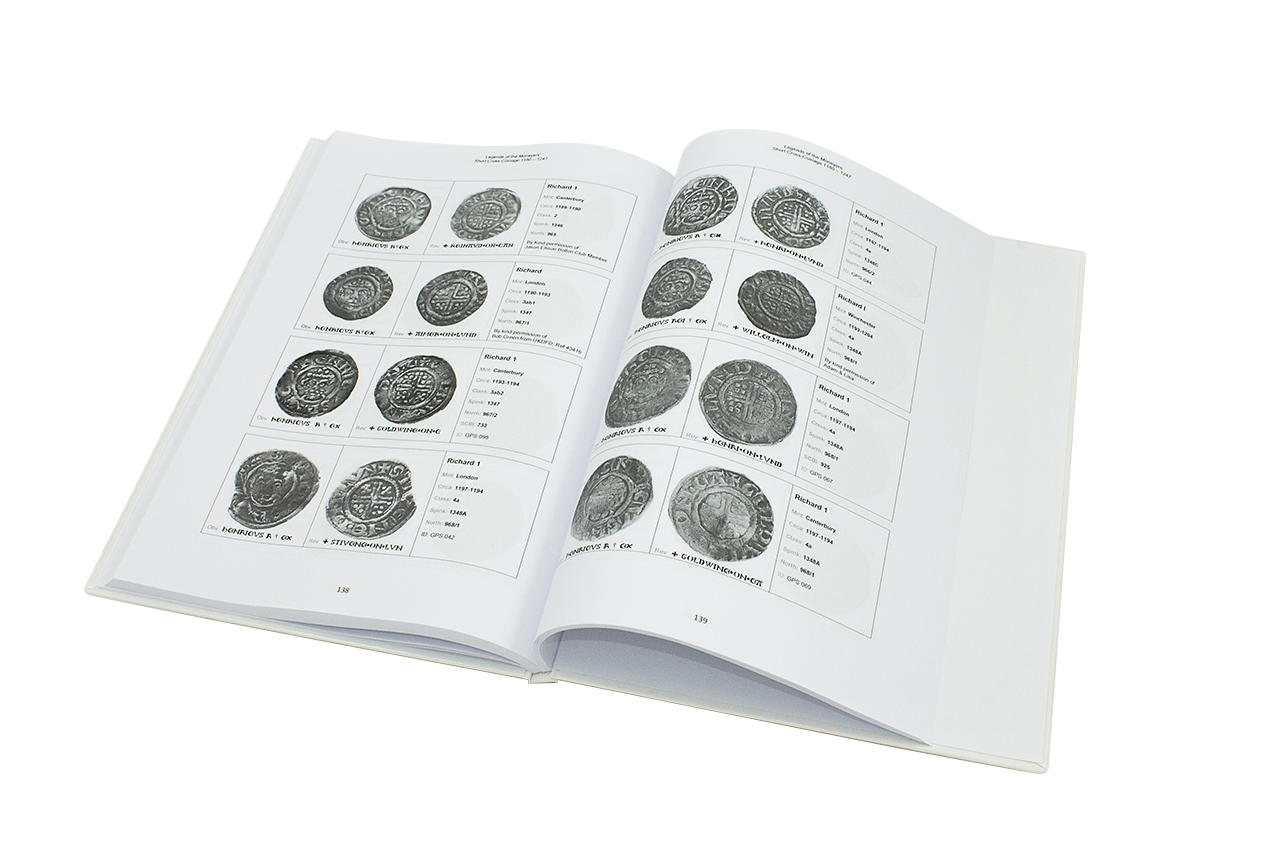 What inspired you to put together the book?
It was taking me so much time looking from page to page to find an ID for my coin. So I decided to place all the work of each Moneyer in single tables and writing fonts to reflect what you would see on the coins. That made it both faster and easier.
How long did it take to put together?
From the time I started to get it press ready, two and a half years.
Who are the books for?
I will be selling them to metal detectorists via metal detecting clubs, and I hope to find a good distributer or agent soon.
Have you any plans to write any more books?
Yes, I have a couple underway. I'm not sure how long they will take to complete – so much research still to do!
And I have to ask, how did you find out about Doxdirect, and why did you choose us?
I googled and found a few print on demand sites. After working my way through them all, you came out on top for ease of use and friendliness. Your pricing was about mid-range but the quality looked a lot better than any of the others.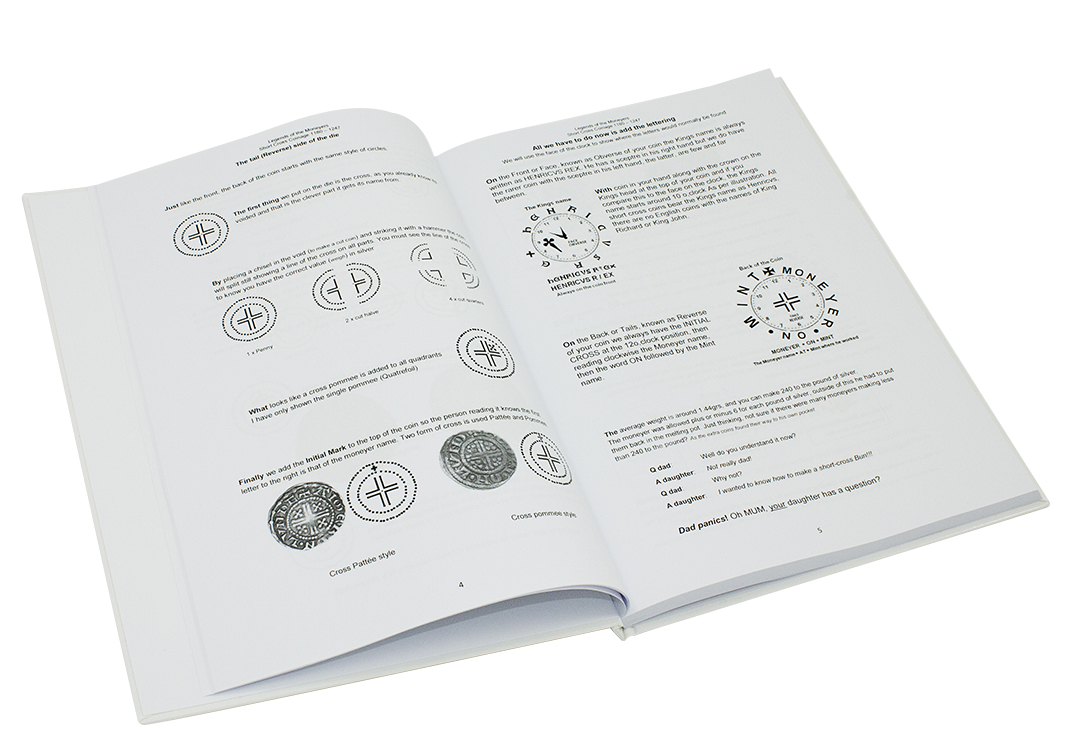 Thankyou so much for sharing with us Gerry…
I wonder what your next find will be..!
Plus of course there is always the British Museum website, that has plenty of lovely pictures and details to keep you engrossed www.britishmuseum.org.
And if you've always wanted to print your own book about a subject you're passionate about, give Doxdirect a try!